by Jen Miller
The biggest country in South America, Brazil is known for its natural beauty, bright colors and friendly people. Regardless if you prefer adventure, historical travel or relaxing by the beach, Brazil has everything you need to have unforgettable vacations. There is so much diversity that you could spend a lifetime just traveling within the country, and wouldn't get bored. That is why here we will help you decide where your first brazilian destination will be.
1. São Miguel dos Milagres (Maceió)
If relaxation is what you are seeking São Miguel dos Milagres is the perfect location. The beach is quiet and not packed with people. It offers kilometers of a beautiful emerald sea view, shade provided by coconut palms and natural swimming pools. Most of the hotels are by seaside, and among many options Pousada do Caju is the one that stands out the most.
2. Surf Lessons at Porto de Galinhas (Ipojuca)
Commonly known as the place to go when you are a lover of nautical sports, Porto de Galinhas offers great options. Regardless if you prefer surfing, water skiing, wakeboarding or jet-skiing, this destination is a must. And if you never practice any of these sports before, not to worry, there are lessons for you there. Surfing lessons for example, take approximately 1h30m and the professionals provide all the equipment you need to have a great experience.
3. Réveillon at Copacabana (Rio de Janeiro)
New year's eve at Copacabana beach is one of the most popular Brazilian parties. The attraction that everybody looks forward is the firework show at midnight, that are launched from several barges in the ocean. Usually people just stand on the sand and enjoy the party, but there are also hotel rooms or apartments by seaside that you can rent if you plan in advance. The firework show lasts for about 15 minutes, but the party lasts all night long, so go prepared to have an amazing time.
4. Aquário Encantado (Nobres)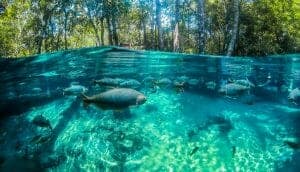 Translated as "enchanted aquarium", the tourists say that seems it is enchanted indeed. Located within the woods, you can get there by a 400m easy hike, which takes less than 10 minutes. The aquarium is a 90m² natural pool where you can snorkel among fishes like the dourados and piraputangas. A good place to stay is Pousada Reino Encantado, a very cozy place, that has a natural feeling to it.
5. Scuba Diving (Fernando de Noronha)
Fernando de Noronha is a beautiful archipelago, where you can enjoy the turquoise waters at its best. The waters are so clear that you can see trough about 50m ahead, and that is what makes this place, one of the best locations in the world to scuba dive. The Atlantis Divers are operating in Noronha since 1993, and offers great variety of scuba diving courses, even if this is your first experience or if you are a divemaster already. However, the length of your expedition will depend on your level of expertise. Beginners will dive for about 30 minutes, and certified divers can stay underwater up to 50 minutes, depending on the gas consumption of the diver.
6. Stand Up Paddle (Búzios)
Búzios got famous in the 60's after a visit from Brigitte Bardot, and is one of the most well-known places to go when in Brazil. The waters are spectacular and super peaceful, and that is why it is a great location to do stand up paddle. Buziostour offers classes that will make you feel really comfortable and safe practicing the sport. The classes are 20mins of theoretical knowledge and warm up, and an hour of practical class. The only thing you need to do is go there, schedule a time to get your class done, and have tons of fun.
7. Hike to Pedra Furada (Jericoacoara)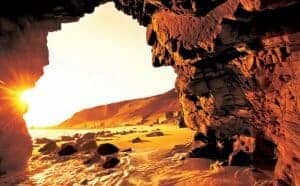 Pedra Furada, translated as holed stone, is a rock formation that stars the postcards of Jericoacoara. Getting there is extremely easy, is a 30 minute hike from Jericoacoara beach. The best time to visit is in July, because the sun sets in the other side of the stone's "hole", providing a nature's spectacle to those seeing it.
8. Backpacking at Serra do Divisor (Cruzeiro do Sul)
This destination is for those seeking adventure. At the border of Brazil and Peru, within the Amazon Forest, you can find a National Park known as Serra do Divisor, it has 843 thousand hectares and is the home of approximately 73 villages, several of them being of indigenous people. The main attractions of the park are the waterfalls of outstanding beauty. Every nature lover will be amazed by its greatness. Getting there is a little tricky, but is totally worth it. It will take you two days of a boat ride, and a lot of hiking once you are there.
9. Fun at the Resort (Maragogi)
Maragogi is a city situated north at the state of Alagoas, with over 20 km of great ocean landscape. The best way to enjoy the experience is to stay at Salinas Maragogi an all-inclusive resort that offers a great deal of fun activities and luxury spa features that will make you never want to leave.
10. Poço Encantado (Itaetê)
The caves with water wells are amazing to see. The best time to visit is during the fall and winter, at this times of year an unique phenomenon happens, sun rays penetrates the wells making the water even more clear and beautiful than already is. The depth of the wells can vary between 20 to 61 meters, and you can see clearly everything there is at the bottom. But be aware that this is a very busy location, so you can stay only up to 15 minutes at each cave.
11. Praia da Costa (Vila Velha)
The beach has a great infrastructure and is ready to welcome tourists all year long. Is a great option for those who feel like going to a beautiful beach during the day, and like to have fun at bars or clubs at night.
12. Dance Forró (Itaúnas)
Besides having amazing beaches, Itaúnas is known as a great destination for forró lovers. Forró is a typical dance style of the Brazilian northeast, and has in Itaúnas a great national festival on its behalf. National Festival of Forró happens during holiday seasons as Christmas and New Year's Eve and starts every night at 23h, and goes on all night long.
13. Fervedouros da Ceiça (Mateiros)
Located 25km away from the city center, Fervedouro do Ceiça is the most famous attraction in Mateiros. It is a well of clear blue water, where a natural phenomenon called "ressurgencia" happens, making impossible for anyone to drown there, even if you try, the pressure pulls you up and makes you float. It is important to keep in mind that only six people at a time are allowed inside the Fervedouro, and only for 20 minutes per group.
14. Cachoeira Vale das Borboletas (São Thomé das Letras)
Only 3,1km away from São Thomé das Letras you can find this amazing waterfall. On the top corner of the waterfall there is a valley with many streams and falls, and in determined times of year many butterflies are seen in the location, making it even more beautiful to see.
15. Lençóis Maranhenses (Barreirinhas)
The scenery is dominated by sand, dunes and lagoons, and when you get there, it feels like you reached paradise. The best time of year to visit is July, after the rainy season ends, so you can see the national park at its best. Brazil Planet Turismo has a great 3 days and 2 nights tour, that can be customized to best fit your needs. It leaves São Luiz, the state capital, and takes you to Barreirinhas in a acclimatized vehicle with a driver.
16. Maracanã Tour (Rio de Janeiro)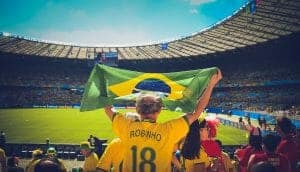 Brazil is known as the country of soccer, and Maracanã is one of its greatest stadiums. The tour tickets can be bought at the stadium from 9h00 to 17h00 every day, and you can stay as long as you want there, but usually the length of the tour is about 1 hour. This is a tour every sports fanatic will love.